May 1, 2021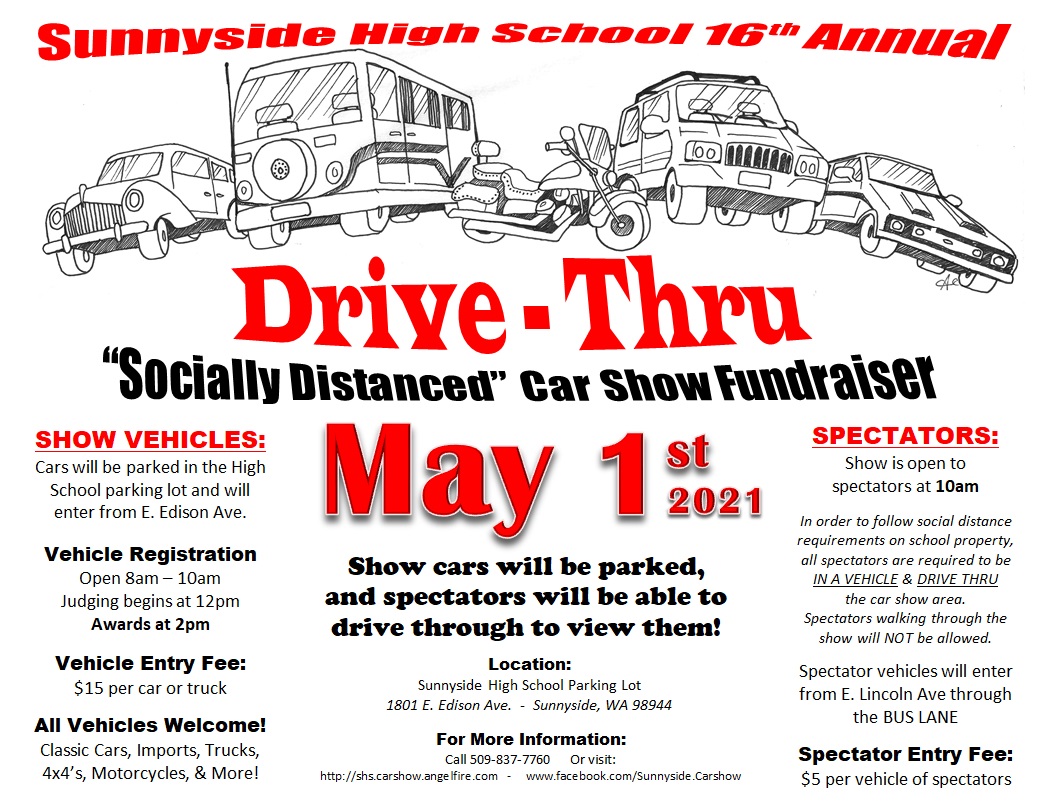 THANK YOU to SHS 202# senior student #### for this year's artwork!
.
---
.
FAQs and answers for this Drive-Thru Show:
.
Q: Do the car show participants have to stay in their vehicles the whole time?
A: No! Participants are welcome to sit either inside their vehicle or outside. If you are sitting outside and 6 feet away from anyone outside your immediate party, you do not have to keep a mask on.
.
Q: Can car show participants walk around the other cars?
A: Yes! Between the 8am-10am registration time participants are welcome to walk around the other vehicles to view them as long as they are wearing a mask. Once we open the show up to the public and have vehicles driving through, we ask for participants to stay by their vehicles.
.
Q: Why didn't we have this show offsite to avoid the school's COVID restrictions?
A: There are many factors that kept our show on school grounds. The main driver was our time constraints. When we (the event hosts) were asked to try and make a show happen this year we literally had 1 day to come up with a location. The high school's parking lot was best suited for our needs and they had the availability for our show. We also chose to stay on school grounds due to our booster club's insurance situation, which only covers events ON school grounds.
.
Q: Will there be food at the event?
A: There will not be food sold IN the event, but we are working on options to have food available just outside the event.
.
Q: What are the award categories?
A: We are still ironing out details for our award categories. There will be less categories this year, but the trophies will still be the amazing hand-welded trophies made by last year's 2020 high school welders, who had their show cancelled. Once a decision is made for the categories we will post it soon!
.
Q: How do we register for the show?
A: Registration will happen AT the show. The vehicle registration fee ($15/vehicle) will be collected when you drive in, and the form will be filled out after you park. Due to the short time constraints, we are not having any pre-registration.
.
Q: Can I just donate and not attend?
A: YES! If you would like to still donate to our 2021 SHS senior class but would rather not attend the event, please send me a direct message and I can send you information.
.
.
.
Click on the links for more information:
.